Updated 7/19/22
Improving visibility on the Internet is important for any company. In today's competitive marketplace, your brand must be visible. It's also important in driving traffic to your website or blog. For a blind installation company seeking to improve its visibility on the Internet, it can develop SEO strategies and earn SEO rewards.
You may wonder how to go about working with search engine optimization tools, but it is simple. The first step to improving your search engine optimization is ensuring people know where to find your website. Search engines provide information about websites through links from other sites, so they look for sites with good links. Partner with another company, like a window installer or interior decorator, and link each other's websites in blogs and social media posts to spread your links.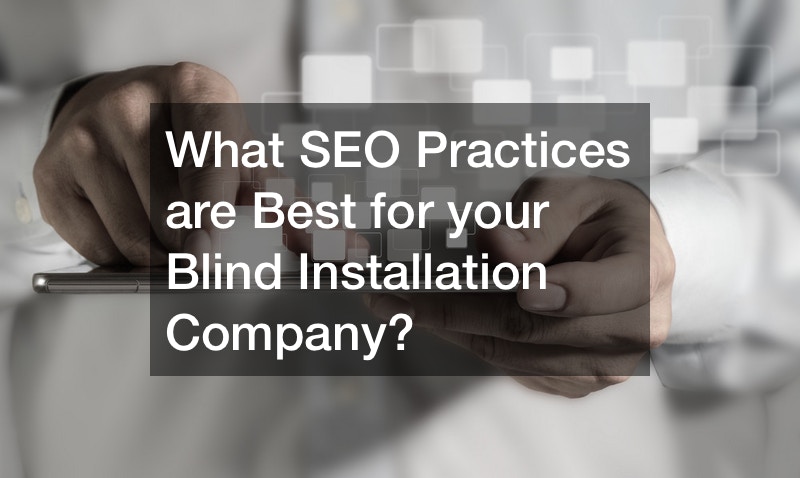 The second step is ensuring visitors can get into your site easily by using the correct URL. A URL starts with the correct domain name and then has a specific path that takes users to their page once they've clicked through from another source. Also, use keywords in your site's content so Google knows what kind of business or product you're talking about when someone searches for it! Keywords are based on high-volume search terms and putting them in your site's content will make it easier for more people to find you.
Search engines use these keywords to determine what type of content gets ranked higher than others. Get your website on top of Google search by making use of keywords. If phrases like "blind installation" show up as frequently as possible on your site, visitors will see those phrases more often when searching for your site.
Home improvement is a lucrative business, but with so much competition out there, it can be hard to stand out. Marketing is an incredibly powerful tool in today's world. A marketing campaign needs to be clear and creative, informing clients as to what the company offers – and what sets them apart from the competition.
Marketing is a powerful tool in letting clients know what a company offers, its level of commitment, and the lengths that it is willing to go to generate the result that the client is looking for. When it comes to marketing a property, the idea is that an image is being painted. An image that depicts everything that a client is looking for in a home, while not having to jump through hoops.
Marketing campaigns that inform, intrigue, and raise a call to action are more likely to not only gain new business but also retain a loyal clientele. Implementing these marketing ideas for home improvement companies can cement a company's reputation and customer reach.
Home improvement companies are not always limited to being local. Creating a strong image through marketing campaigns can expand a company's global reach.
Even If Every Service Is Unique, Inspire Clients
Whether the main focus is aimed at a custom home builder or a home remodeling company, marketing has to be tailored to fit the desired client base. Think about designing a tangible image when creating marketing ideas for home improvement companies.
When it comes to a custom home builder, the client base is clearly out to get the exact home that they have some idea of. So then the question becomes, how to make a dream a tangible reality while still reaching a wide range of clients? A powerful mission statement, combined with pictures of past projects incorporating possible design options, creates the illusion that possibilities are endless. This process can also make one custom home builder stand out above the rest. Clients may think they know what they want, but posting images of finished projects on the company website and social media platforms is eye-catching.
Spotlight Unique Services Offered
There are many essential aspects to a home that homeowners often overlook when selecting marketing ideas for home improvement companies. Just because it seems mundane doesn't mean that it shouldn't be marketed.
One such area is the accessibility and protection of the home. Accessibility is a very sought-after market in the home development and renovation areas. Home improvement companies that offer ad-compliant installations and renovations have a large, underrepresented housing market. It can come down to elevators, ramps, bathroom setups, or even sitting stair elevators – being able to put an ADA compliant commercial sign outside of the home. That in itself opens a larger marketing pool for potential buyers.
Another area that can be a marketing standpoint is added security. The idea of fully protecting a home from both a security standpoint as well as a structural standpoint can often fall by the wayside. Adding contractors to your portfolio of partners, or advertising these services can help a company pull ahead.
Often, homeowners do not think about the impact that weather and wildlife may have on the outside of their homes. Creating marketing campaigns in high seasons where weather and animal damage are likely to happen will make for a successful marketing campaign. Take, for example, pigeon poop. It may seem like something simple, but it is something that a home renovation company needs to highlight. It can be as simple as marketing pigeon repellent. Companies like that are likely to receive repeat business and a growing client base.
Many people may not know about the pigeon repellent and how it can save their exteriors. Highlighting services that clients may not think of only adds to the potential of the company. These lesser thoughts about areas on the home can encompass several home improvement areas.
Target Additional Audiences With Print Advertising Campaigns
Despite the common phrase, print marketing isn't dead yet. Not everyone in the home improvement industry is internet savvy. So marketing ideas for home improvement companies should still include word of mouth and print advertisements.
This marking tactic is tried and true. While it may take more effort, it can be effective. Many people prefer the more human approach, especially when it comes to putting their home into someone else's hands. Marketing face to face has been a pivotal part of forming business relationships for so long because of the confidence that it creates.
While the world continues to shift to focusing on the internet, there is a certain confidence in going with a company that still directly interacts with its targeted audience.
Don't Underestimate the Power of the Internet
The internet is a tool that should never be taken for granted. The internet can be the basis for marketing ideas for home improvement companies. Think about social media boards that are focused on a similar trend. These accounts are pulled from multiple companies and attract a wide audience. When it comes to home improvement, if you can dream it, it is probably on the internet.
Keeping up to date on the latest trends is a must. There also needs to be an outlet as to where re-vamped ideas are showcased/ The internet with all its outlets is a marketing machine in itself.
Interact With Customers Regularly Through Social Media
A home improvement company that has little to no social media presence is only hindering itself. Social media have the unique bonus of being able to interact with clients in a way that comes across as more 'human' while remaining professional. Controlling and tailoring social media pages to reflect the company's mission statement is a simple method to reach more clients. Think about what makes a company appealing. Being able to contact and get a response from a company quickly can ensure repeat business.
From large companies to up and coming companies, those that have a quick response time to comments, direct messages, and like or repost images that their clients have posted of their home improvement work, are seen with higher regard. It shows that the company cares when looking at a home. Choosing a company that has your back starts with the people behind it. These marketing ideas for home improvement companies are simple; posting finished projects and responding to comments can be done quickly and concisely with extreme ease.
Don't Hesitate to Ask For Customer Reviews
One of the marketing ideas for home improvement companies that can seem awkward or go overlooked is asking for reviews after completing a project. When people are looking for a home improvement company, they want to know that the finished job is a success.
Take into account carpet cleaning services. There are hundreds of them out there, but not all are top quality. Getting reviews from clients, including images if possible, can make a client's choice in choosing a company with confidence simple.
Bring Videos Into the Mix
The more visual, the better some marketing ideas for home improvement companies is the incorporation of video. Any process of home improvement that can be showcased interestingly makes a great first impression. People are visual. Processes like exceptional construction services filmed from start to finish show a level of transformation that is more in-depth than just before and after photos.
Offer Promotions and Discounts
Promotions and discounts can seem like a waste of money, but the majority of clients are looking to do their home improvement job right. Companies that package bundles or discounts with repeat business are lucrative.
When it comes to services that are less offered, the consideration of adding a discount or an incentive can be lucrative. Take bird damage, for example. Many people don't expect pinion poop to do that much damage to their houses. The reality is it can damage siding and stucco. Offering a package deal on pigeon, or bird, proofing, when a client is looking to install or revamp siding only benefits the company.
When thinking about home renovations, a client is looking for the most effective method. Weather and wildlife can be attributed to damage to exteriors, such as stucco painting. Creating a campaign that advertises a company's ability in the area can lead to further exterior projects, as well as the ones on the interior.
Form Partnerships with Local Companies
This is one of those marketing ideas for home improvement companies that seems like it would be detrimental, but that isn't true. One company is rarely going to be able to do every aspect of home improvement. Forming close relationships with local businesses that tackle areas that might not be offered becomes extremely powerful.
Promotion goes from both ends. Forming partnerships means that both companies are promoting each other and have a greater reach. Partner companies should come with a level of confidence.
When thinking about projects like flooring, a company that markets a stable relationship with a successful luxury vinyl flooring contractor is more likely to get business than one that does now.
Where the home renovation company is located matters. Some services are not offered in all regions. A practical marketing approach is to include both those that do and do not know these dangers. Considering lesser-known, but important areas, such as a basement drainage system should be a major highlight. From a marketing standpoint, it sets a company apart.
Keep All Information Updated
Don't ever assume anything is up to date. Perhaps the most important item on the list for marketing ideas for home improvement companies is updating business information. Having an intriguing and throughout the website doesn't matter if contact information is readily available.
While it may seem like overkill, including updated contact information is an easy way to gain business. Also, when it comes to home building and renovations, every project is different. Making a continuous portfolio is an incredibly beneficial asset. It not only showcases a home improvement company's current ability but its range and growth.
If You Fail, Try, Try, and Try Again
Marketing isn't an exact science. It is rare that a company can hit the intended market on their first try, especially when it comes to the housing market. While there are algorithms based on trends and company statistics, sometimes companies can feel like they are aimed in the right direction and fall short. A company that has an amazing idea may take years to take root, but it is no reason to lose hope. Especially when it comes to the housing and realistic market, which is a market that is constantly changing, it can be hard to determine what demographics to market to.
Real estate and the markets associated with it will always be in demand. It is also a more complicated industry than it comes across at first glance. This is why direct and intriguing marketing is so important. Arguably, what everyone wants in a home is something that will be reliable and safe. It's just a matter of finding those companies. Using these ten marketing tips can take a company from simply being good enough to everyone's go-to company in the area.
Housing is such a lucrative business. With so many cogs in the machine, it can be difficult to determine how to market each one. While it may seem like building or renovating a home is the same from company to company, that is not the case. It doesn't take a professional home inspection to determine what it will take to sell an idea.
It is not only the more that a home improvement company has to offer. It is the quality and the results that the company has to back up. Offering more services, fully documenting finished products, and interacting with both clients and company partnerships all create a successful marketing plan. What successful marketing comes down to is if the message of the company is coming off correctly and if clients are receiving that well.